2014-15 Total Grant Money = $102,105
Venture Grants:
$ 42,653 requested, $ 27,349 funded
13th Annual Ag-Ed 4th Grade Wetlands and Watershed Day  $1700
District Wide
Brain Pop/ Brain Pop Jr.  $1100
HCB, Stiegel, Doe Run and MCMS
Doe Run Nature Club  $1000
4th Grade Doe Run
7th Grade Whitaker Center Experience    $1700
MCMS
High School International Culture Day   $1700
Grades 9 to 12 MCHS
Video Conferencing for Classrooms K-12   $1700
District Wide
Sexting and Texting: Safe Social Media  $1080
Grade 10 MCHS
Design It, Create It  $500
Grade 5 and Gifted Students MCMS
Student Run Button Business  $840
Special Education Students, 9-12, MCHS
Gifted Special Education Students, 6-12, MCMS & MCHS
IXL Dynamic, Adaptive Math Practice $1400
Grade 7 Math Classes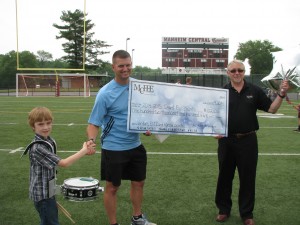 Surgical Suite: Total Knee Replacement video conference  $300
MCHS
Family Math Night $700
Elementary District Wide
IXL Dynamic, Adaptive Math Practice  $1400
Grade 8 Math Classes
Stand Up, Step In, Stop Bullying Assembly   $700
Stiegel Elementary
Encouraging Readers with HiLo Books  $1700
MCMS Library
Underground Railroad $632
HCB grade 2
Raku or Ukar? East Meets West in Ceramic Art (Kiln)  $1520
MCHS Art
All Pro Dads' Program at Doe Run  $1000
All Doe Run Families
Burgard Buddy Bench  $901
HCB Students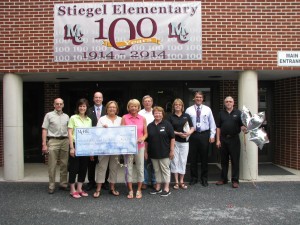 All Pro Dads' Program at Stiegel  $1000
All Stiegel Families
Language Learning at their Fingertips: Rosetta Stone Classroom   $1676
MCHS
Math Apps for 7th Grade Math  $300
MCMS
Ereaders for Kindergarten: Providing Practice for the Readers of the Future  $700
Doe Run Kindergarten Classrooms
Expanding our eBook Library  $850
MCMS Library
Cyber Surgeons: Simulations with National Institute of Health  $400
MCHS
Expanding our eBook Library  $850
MCHS Library
EITC   Business Tax Credit Grants:
$100,161 requested, $65,650 funded
These grants must follow rigid state requirements to qualify and must be approved by the PA Pennsylvania Department of Community and Economic Development.
iPads Tapping into the Perfect Learning Companion  $26,212
Agriculture Workplace and Career Readiness   $8800
MCHS Grades 9-12
Junior Achievement   $8500
All Manheim Central Schools
Manheim Momentum Percussion Ensemble:    $8372
Instructor led, peer mentored percussion ensemble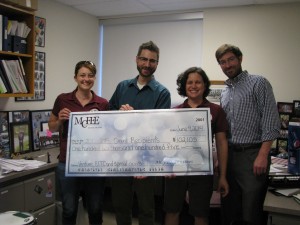 MCHS, MCMS
OUR Novel Experience:  $6000
book reading/meet the author program
MCMS
3D Animation and Media Composer Workstations $5810
MCHS Media Production Courses
Mobile Agricultural Education Science Lab  $3000
District Wide 3rd grade
Driven 2 Distraction: Reduce Impaired and Distracted Driving  $2932
MCHS 10th Grade Health Classes
Enhancing Learning with the iPad: Reach Every Learner    $2430
District Wide Learning Support Classrooms
Chef Bill Scepanski Visit  $1500
MCHS
iPads for English Language Learners  $1200
K-4 all elementary buildings
Special Grant:iPads: Tapping into the Perfect Learning Companion
$26,212 

iPads: Tapping into the Perfect Learning Companion was written by Laura Campbell (3rd grade) and Jamie Keenan (1st grade).   This grant will integrate a set of iPads into two classrooms per grade level, 1-4, at H.C. Burgard Elementary. All 4 Kindergarten teachers will also have the technology thanks to the new district plans.
The HCB teachers will work together in this pilot program to continue to increase the integration of technology across the curriculum and provide new learning experiences for their children. There will be same grade level teacher collaboration, as well as cross grade level collaboration. This pilot will include six student iPads and one teacher iPad per participating classroom. This will enable them to use the technology in whole and small group instruction, as well as independent work for the students.
The grant writers will serve as professional leaders in teacher training, and will help to develop activities and lessons by leading monthly meetings of all participating teachers for sharing ideas. Mrs. Campbell and Mrs. Keenan will attend a summer training, the IPad Summit, and will pass on their learning to the other teachers before school begins.
The iPad has powerful creative tools, interactive textbooks and a universe of apps and content that makes for endless learning possibilities.
100% of the $65,650 contributed by the businesses in the EITC program for 2013-14 which will fund these grants was spent on the 2014-15 EITC grants.